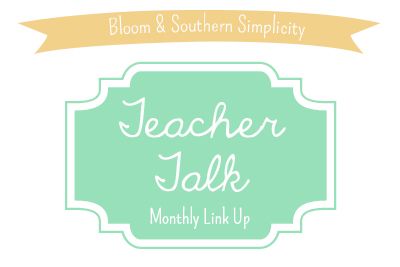 Hi everyone! I am so excited to finally start this teacher talk link up with the lovely ladies of
Southern Simplicity
and
Bloom
. This is perfect timing because I have just started classes of my senior year (finally!) I'm getting closer and closer to a classroom of my own and could not be more excited!
First off, my name is Katie and I'm an Early Childhood/Elementary Education major from Nebraska. (Go Big Red!)

I am currently still taking classes to finish my undergrad but am crossing my fingers I can someday teach 1st grade. These first grade children are at the time in school where reading is crucial to get the hang of. They have already passed the basics of "how to be" in school and can now dive into rich learning!

I want to teach because I not only have a passion for children, but I have a passion to make a difference in a child's life. I want to be the one who they can feel comfortable with. These students may only be shown love and compassion from me while they are at school in my classroom. I want to be that one who can show them the love and encouragement they need to succeed in and outside of school. I'm excited for the good days when my students will understand the material I am teaching, and the not-so-good days where they are being challenged and the material may be too difficult for them at that time.


I will be working with students this semester in a few of my classes but will not have a classroom of my own. I'm looking forward to see where this semester takes me in my classes, passions, and direction after graduation.

I'm SO excited for Teacher Talk! Enjoy your Tuesday!